The SAT is a high school standardized test considered by most colleges and universities in the process of admission Students can take SAT in any high school grade 9th – 12th. Most students take the test in Junior year. The online test platform is easy to use and only requires access to a computer, tablet, or laptop with a test booklet and internet. Assign tests via email with your students on a set schedule. Enjoy the flexibility of a one-on-one online test anywhere where you have an internet connection.
SAT Exam Details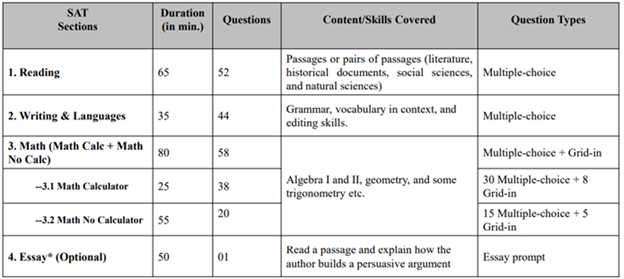 Few Tips to find out your expected SAT score
Grab an official SAT study guide:
The 2020 edition of The Official SAT Study Guide includes eight official SAT practice tests – all of them created by the test maker. As part of the College Board's commitment to transparency, all practice tests are available on the College Board's website.
Take a complete Timed Test as Exam Day:
All multiple-choice questions are scored by giving 1 point for each correct answer. No points are subtracted for incorrect answers or answers left blank. Hard questions count the same as easier questions. You won't lose any points for guessing, so try to answer every question.
Take a picture of the Bubble sheet or create a Scanned pdf:
The most notable bubble sheet test you experienced was taking the SATs during high school, prior to filling out college admission applications. Assign an online bubble sheet is a smarter way to prepare for standardized tests.
Grade the Bubble sheet image/ scanned pdf through Socrato online scanning application:
Our detailed score reports break down the results to make sure your student knows exactly where he or she needs to focus. We will help you understand your score and will take the appropriate and most effective steps you need to improve it.
Tutors/Teachers/Schools can also assign their own custom tests or released/retired tests to the student and generate a detailed diagnostic report. A Tutor can assign tests with smart bubble-sheets to processing Tutor watch them turn into detailed scores and performance reports. Students can also check diagnostic reports with special permission from the tutor.
Practice the sections and questions to achieve the Targeted score: 
SAT Practice Test is very important for the student and academy owners to get the insight of test and their strengths, weaknesses in each subject. Moreover, we track the progress and put the focus on the right topics. Prepare the right topic so the preparation is easy and efficient which gives better results in less time. The practice test can help you understand exactly what each test is asking, how they're structured, the time limits, and more.
To score high students can use Socrato to practice online and get insights beyond scores. Socrato's Companion Series helps you get the most from your Official Study Guide. Moreover, Understanding the syllabus can help you prepare for tests and avoid nasty surprises on test days. Moreover, it will help you in preparing an optimal study plan based on your strengths and weaknesses in different subject areas.
Smart Strategy for SAT preparation downloads free SAT e-Book. Grade your SAT practice test bubble-sheet online to get a detailed Socrato diagnostic report.