Though it may be a cake walk to create a Facebook business page, it's not an easy venture to make it engaging to your tutoring prospects.
Fortunately you don't need to learn how to do Facebook right all alone. There are many businesses who have paved the way before you to creating engaging and creative Facebook business pages, should you take some time to look for them. Using these pages it's easy to glean some proactive moves you can make to help build a Facebook business page that attracts your prospects, engages them and keeps them interested in the months to come.
To help teach you these tips, I point you to a few successful Facebook pages which articulate the value of getting creative and colorful on your Facebook page. Enjoy!
Merriam-Webster Dictionary Online
We've already talked about some of the fantastic video content that Merriam-Webster has been putting together, but how they're using it on Facebook is even better. They're actually embedding the videos straight into Facebook for their fans to enjoy without leaving the Facebook platform!
If you've yet to create a piece of video content and share it on your Facebook wall with your followers you're missing out on a fantastic opportunity to stimulate their minds and foster some engagement. Don't worry if people don't react right away to your change of place, keep the video content interesting and post it during times when your prospects might be at leisure to watch a piece of video content.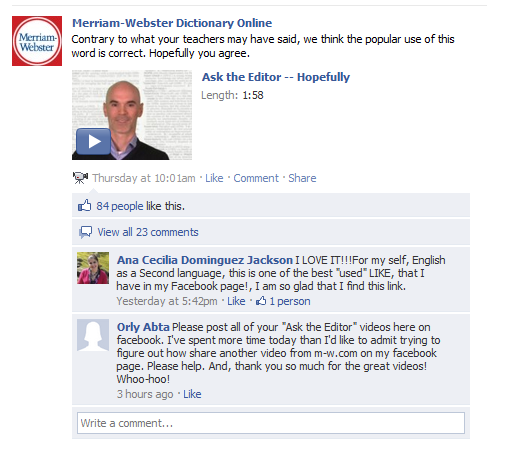 Tutor.com Online Tutoring for Military Families
If you're only posting text updates to try to engage your tutoring prospects on Facebook, try to stimulate them with photos instead as Tutor.com Online Tutoring for Military Families has done. Photos are a great way to break up the monotony of your Facebook page and draw attention to your brand in the prospect's feed. In the past year, Facebook has put even more emphasis on highlighting photos on Facebook, so if you haven't experimented with creating visual content, now is a great time to start. If you'd like a comment about the photos to appear, I recommend adding a brief summary of the photos in your photo album (this will appear in the feed). If you upload a single photo at a time, then be sure to make create a description of that photo as well so the context of your photo appears in the feed, too.
Vocab Videos
One way to create content for your Facebook page and involve your fans is to feature a contest or showcase of talent from your fans. One educational business on Facebook that does this well is Vocab Videos, a SAT prep service that creates humorous vocabulary videos to help students learn difficult SAT words easily. They often feature student created contests on their various social accounts which lead to a lot of repeat engagement from Facebook fans while getting word out about the contest through showcasing each individual submission.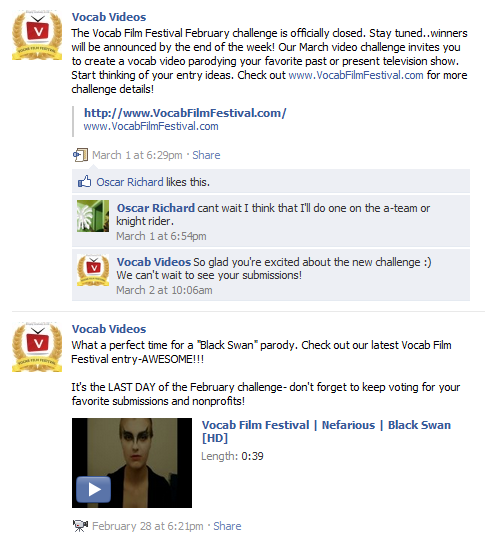 featured photo by Capture Queen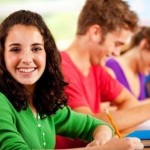 Our free 20-page ebook is a step-by-step guide on how to select the right test for your student. Learn everything you need to know about using the PLAN and PSAT to improve student scores, how to leverage learning analytics to select one test over the other, and other tips on how to take the guesswork out of selecting the ACT vs the SAT.