Whether you're the proprietor of a 10-man tutoring company or a one-man tutoring shop, it's important to build local SEO juice for your business.
For tutors, building a local online presence means instant relevancy. It means that members of your community can find your business more easily online. It means that you're marketing yourself to the students who will take your tutoring classes, local parents who will pay to supplement their children's education and it also means that you'll get found easier online by other local prospects.
Even a tutor with very little online marketing knowledge has what it takes to increase their SEO juice locally. Here are a few easy ways to get started:
Supercharge your Yelp Presence
Yelp is an extremely powerful referral system online. Though some small businesses fear what reviews might surface on Yelp, it's an extremely valuable tool and should be included in your local marketing mix. For one, Yelp has a huge community of active local reviewers. Secondly, they've got some seriously powerful SEO juice, which means that your prospects who are researching tutors in your area might find Yelp before they find you. Since you don't want your competitors to snag business that could have been yours, take a peek at 10 Easy Ways to Supercharge Your Yelp Presence by Leighann Farrelly (one of Yelp's Community Managers). She will walk you through how to create a Yelp Business Owner Account and join the conversation online.
Sign Up for Google Places
Google Places is a free listing service for local businesses. It's been referred to a variety of different things over the years – Google Maps, Google Local, Google Local Business Center– however – they're all one in the same.
To get started, you'll want to register your business with Google Places. Then Google will want to confirm your location by sending snail mail to confirm your address. Once your registration is complete, you'll have the opportunity to start ranking for local keywords.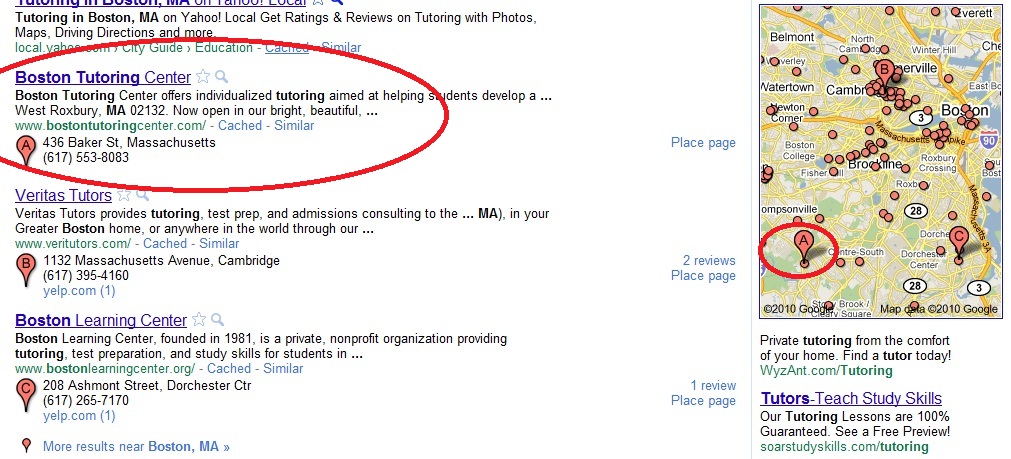 However, keep in mind that thought this is a great start; your work is not quite over. You'll have a lot of competition from other businesses who are competing against one another. That's why Google uses their algorithm to determine the listing order of websites; websites with the most inbound links to their website will get preference over a site with no inbound links or a site that isn't optimized for local keywords. One way to stand out from the pack is to start optimizing your website for local long tail keywords.
Back in October, Google launched an extension of their Google Places product. It's called Boost, a location-based ad product for local businesses. Though Boost is only available in a few locations, it looks like might help businesses who need instant local traffic. Though keep in mind, this traffic is only temporary and should always be used in coordination with an organic SEO strategy.
Tag and Geo-tag Flickr Photos (Oh and Don't Forget Your Alt-Text)
Flickr is one of the biggest photo communities out there and though there are thousands of photos on the site, not everyone remembers to tag and geo-tag them so that they can get found online. If you have the habit of taking photos of wherever you go or have some great local photos to share, consider uploading them to Flickr and tagging them with relevant keywords. If you tag your photos with enough relevant keywords, they may even appear in Yahoo and Google's image search.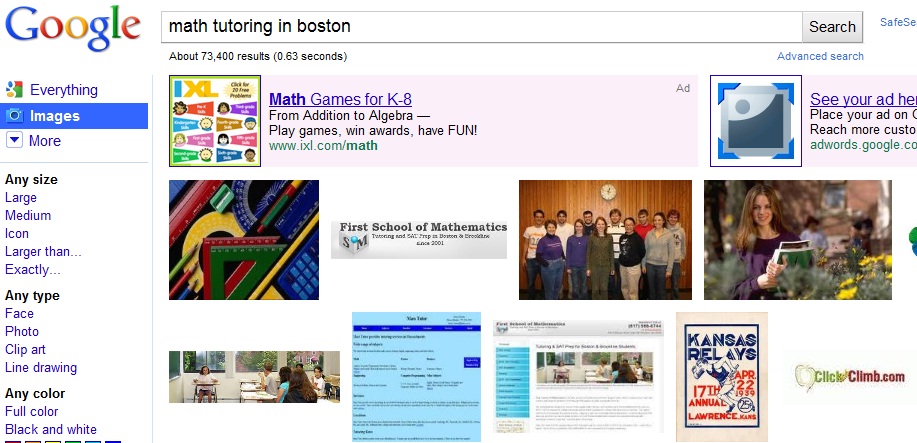 You'll also want to open your content to being shared through the Creative Commons, just be sure to add notes to your content and ask individuals who use the content to link back to your website.
Also, when adding photos to your blog online or adding photos to your website, be sure to add keyword rich alt-text to all of your photos. Be sure to focus on tagging these photos with localized keywords, too! If you're not sure how to get started adding alt-text to your photos, take a peek at this Entry Level Search Optimization post.
Combine Twitter and FourSquare
As we talked about in my post How to Build Your Local Tutoring Presence Using FourSquare, Twitter is an incredibly useful tool when used in coordination with FourSquare. While FourSquare will tag all of your tweets that you push from the app to Twitter with the location you're checking in from, Twitter will make sure that message not only gets out to your followers, but tweets get indexed by Google, too. By adding relevant hash-tags to your FourSquare check-ins and pushing your check-ins to Twitter, you'll get even more local juice.
Sign Up for Bing & Yahoo's Local Listing Programs
Though as of September 2010 Google still leads the way with 65% of search traffic, Bing and Yahoo both have 13.9% and 13.1%, respectively. Since you don't want to neglect maintaining your local presence wherever your competitors are, be sure to include Yahoo and Bing into your local SEO strategy. To get started, just visit Bing's local listing service and Yahoo's local listing tool.
featured photo by Spencer Finnley
Free e-Book: 5 Tips to Improve Your Reporting for Standardized Test Reporting
Download this eBook from Socrato to learn how to optimize and improve your reports to help students improve their scores on standardize tests such as the SAT, ACT, LSAT or others.