Inbound Marketing is all about pulling users to your website rather than pushing them there with advertising messages and cold calling.
However, to run a successful Inbound Marketing campaign for your tutoring company, you should also take advantage of off-site marketing opportunities where you can make your name for yourself within a niche community, share some of the content you've been creating, and add value online. That's why I've put together a list of some of the best places to begin marketing your expertise online and hopefully drive some new business to your website in the process.
There are a lot of question and answer sites out there, but Quora is one of better ones. Using this service, tutors have the power to impart their knowledge on to potential prospects and position themselves and a thought leader. The goal on Quora isn't to sell your products or services with marketing language, it's using your expertise to attract new business. Using Quora, you should feel free to share your tutoring know-how and link to your own content only when relevant. Remember, just like how you wouldn't like someone talking about themselves non-stop at a party, you should also use the same caution when giving advice!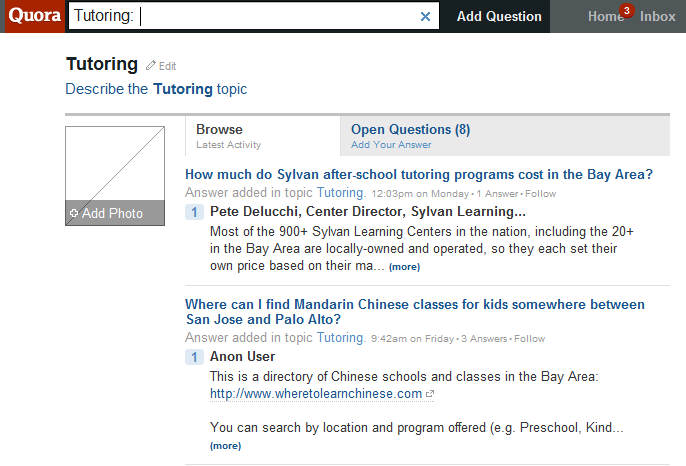 Pro-tip: Sign up by joining via email or syncing your Facebook account to the service and start answering questions. Using the site, you can follow topics that interest you such as Tutoring, Education, or Online Education. You can also give a little description on why you're following the topic, add a detailed description about yourself to your profile, and post messages to your followers.
As a tutor, you should be taking advantage of any opportunity to brand yourself as a professional, and there's no better place to do that than through LinkedIn. On LinkedIn you can get recommendations from past clients who have worked with you, share your current and past experience, and also join groups to answer important tutoring questions.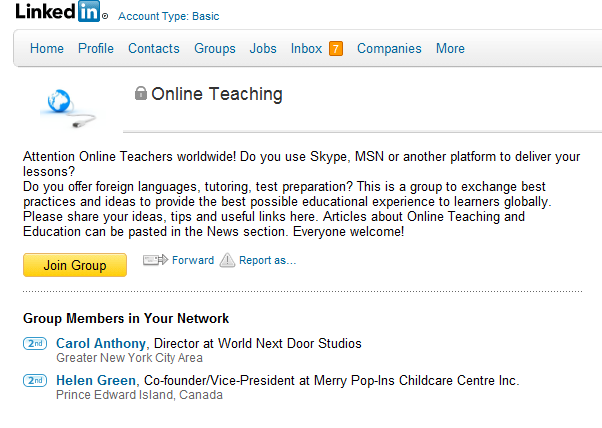 Pro-tip: After building out your profile, adding a photo of yourself, and connections join a few groups where people like yourself would connect. Answer questions, add helpful content in discussions and also share your blog posts and other data whenever relevant to the conversation and the topic.
Are you currently using FourSquare specials to engage with prospects for your tutoring company? Then maybe now is the time! We've shared several ways already to use FourSquare to build your tutoring presence locally. Check out the links below:
How to Build Your Local Tutoring Presence Using FourSquare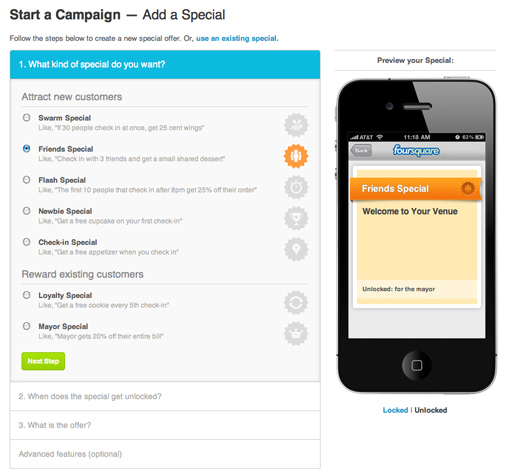 Pro-tip: You don't have to be a physical venue to get the most out of FourSquare. Instead, sign your business up for the service and add "tips" to increase your local mojo.
Yahoo Answers might be a little juvenile at times, but many of the answers do have a lot of powerful SEO mojo that makes using the service worthwhile for tutors. Much like Quora, Yahoo Answers is separated into topics which you can peruse. Search for a question that you think you can give an excellent answer to and respond (don't' forget to add a signature on the bottom which tells people who you are and what you do, plus a link back to your blog or website.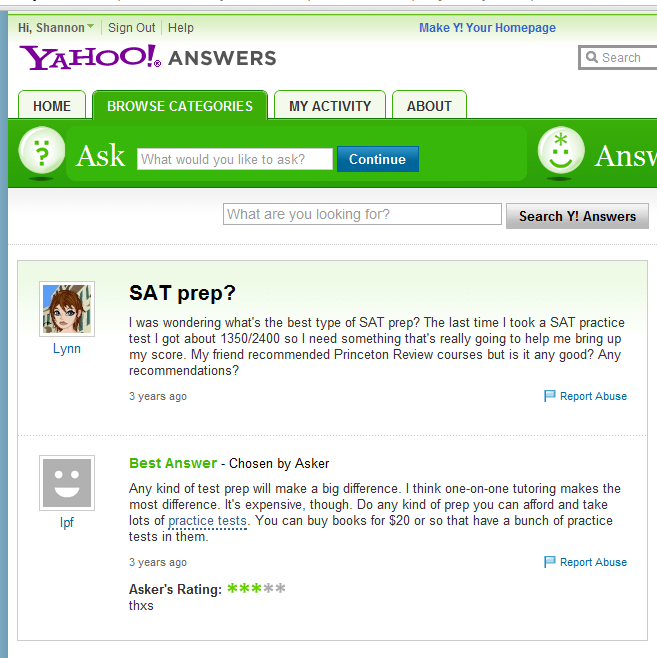 Pro-tip: Yahoo Answers is a service that allows anyone to create or answer questions. That makes a lot of the answers that people receive pretty pathetic. By answering their question better than the other users, you're more likely to get chosen as the "Best Answer" by the asker. The Best Answer is the one that appears first and usually is the one deemed by searchers as "correct". Since Yahoo Answers still show up in results fairly frequently, it's worthwhile to spend an hour or two a week answering questions to increase your traffic and inbound linking opportunities.
–
Free e-Book: 5 Tips to Improve Your Reporting for Standardized Test Reporting

Download this eBook from Socrato to learn how to optimize and improve your reports to help students improve their scores on standardize tests such as the SAT, ACT, LSAT or others.
Download the eBook >>