IITs are institutions of national platform and are known for their excellent infrastructure and quality teaching. The faculty and alumni of the IITs are known academician and industry experts – in India and abroad. JEE Advanced exam allows you to take entry in all the Bachelor degree programmes, Integrated Master's programmes, and Dual Degree programmes (with entry at 10+2 level) offered by the IITs.
At present, there are 23 IITs in India – across seven zones – that you may aim for: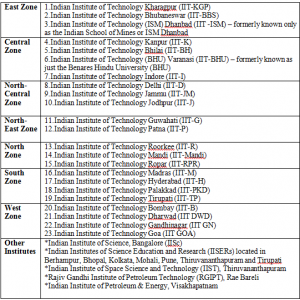 5 Tips You Must Remember on the IIT JEE Examination Day
Do not forget to carry a printed copy of your admit card, an original photo identity card, a pencil, and a black ball point pen to the examination centre. You cannot carry anything else inside the hall, including digital watches, study material, revision sheets, geometry boxes, calculators, digital watches, smart phones or other electronic devices.
Do not wear rings, bracelets, earrings, pendants, and clothes with big metal buttons for the day.
Be sure to reach the examination hall on time. Late entry will not be allowed in any case. Similarly, you cannot leave the examination hall until the exam is over, i.e. for three hours of the exam.
Only use black point pen to mark your answers in the ORS sheet. Do not forget to darken the appropriate bubbles completely.
Remember not to separate or disturb the alignment of the two pages of the ORS under any circumstance. After the exam, you will be handed over the second page for reference later on.
Wish you All the Best Friends!!