High school graduation or an equivalent diploma is a prerequisite to attending college. According to a new study from the Editorial Projects in Education Research Center at Education Week, high school graduation rates in the US are at their highest point since 1973. Almost 75% of US high school students earned their diploma in 2010 (the most recent available data). That's 8% more than in 2000.
Graduation rates for black and Hispanic students have improved even more than for other ethnic groups. Hispanic graduation rates increased 16% since 2000, to 68% in 2010. Among black students, graduation rates increased 13% to 62% in the same time period. White students improved from 74% to 80% and Asian students from 76% to 81%. Among Native Americans, graduation rates rose 3%, to 51%.
The new report also ranks the nation's 50 largest school districts by highest and lowest graduation rates for 2010. Fairfax County, VA led with 85% while Detroit, with its largely low-income population, finished at the bottom with 46%. Also near the bottom was New York City at 54%.
Most school systems showed gains; in fact, thirteen states now have graduation rates over 80%, and only six are below 65%. Vermont led with 85% in 2010, while the District of Columbia trailed the pack at 57%. (I live in Maine, where despite considerable rural poverty, lack of funding and a host of other issues our high school graduation rate for 2011-2012 was over 85%. In my community, over 96% of students graduated.)
On the downside, more than 1 million students from this year's nationwide high school ranks will drop out – that's one student every 31 seconds. Compared with high-performing schools, low-performing school districts are likely to be urban, serve a minority-majority population, and have twice the rates of poverty.
Sources of related data:
Featured image courtesy of schwglr.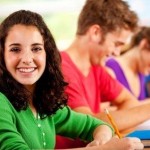 Our free 20-page ebook is a step-by-step guide on how to select the right test for your student. Learn everything you need to know about using the PLAN and PSAT to improve student scores, how to leverage learning analytics to select one test over the other, and other tips on how to take the guesswork out of selecting the ACT vs the SAT.