The charts below provide up-to-date information on officially announced upcoming ACT National test dates for the 2018-2019 school year. National test dates are for the United States, United States territories, and Puerto Rico.
2018-2019 Test Dates (National)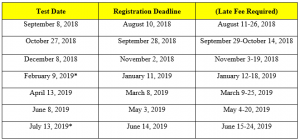 *No test centers are scheduled in New York for the February and July test dates. No test centers are scheduled in California for the July test date.
To score high students can use Socrato to practice online and get insights beyond scores. Socrato's Companion Series helps you get the most from your Official Study Guide.