Every year thousands of Students are appearing for the JEE Main Exam with an ultimate aim of getting admissions in National importance educational institutions such as NITs, IIITs and other Centrally Funded Technical Institutions. When we compare the JEE Main result status till last year, it is a clear that only 20% of the attendees crack the exam and the rest of the candidates were disqualified in the initial stage itself. There are many reasons behind it, among that the major reason is non-systematic study method. Here, we are writing down for you about the best ways to crack JEE Main exam.
Learning- Know What to Attend and What to Omit
• Collect 5-6 previous year question papers and discover common similar topics from it. Then find questions from those selected topics. To see previous year question paper click here.
• 85% of questions that asking in the JEE Main are from CBSE class 11th and Class 12th Syllabus.
Prepare Short Notes
• Things you can include in short notes
Formulas
Name of the law
Principles
Headlines
Hints of Confusing questions
Pay extra attention on the following topics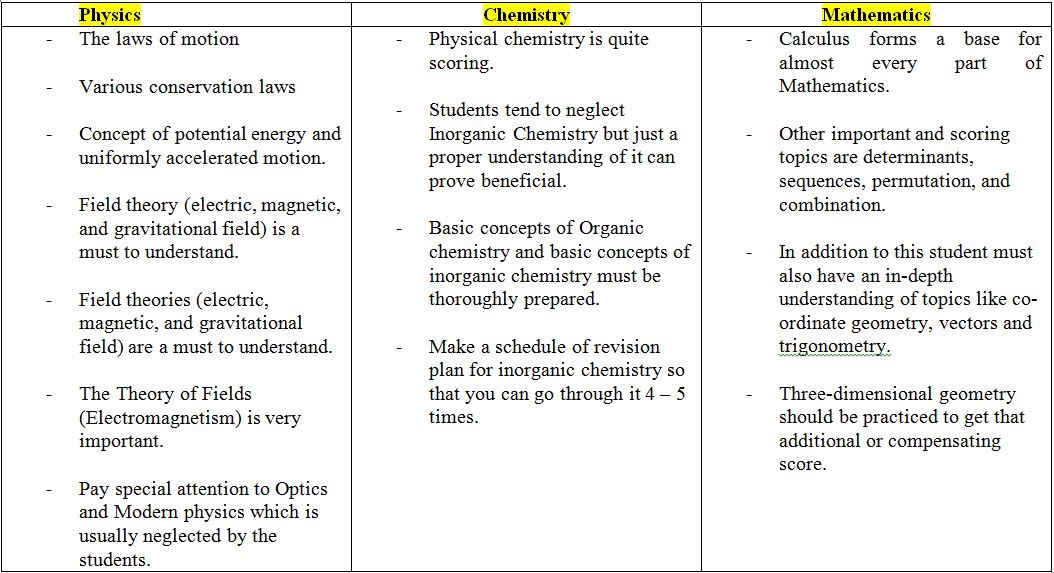 Good choice of mentoring / correspondence
You should focus on understanding the concepts and practicing problems.
You should consider time tables and study materials from renowned institutes coming from both online as well as offline sources.
Time management
The time duration of the exam is three hours and with multiple choice questions and negative marking, managing time and speed is very important, which will come over time and with practice.
Track progress
You should practice test subject wise also. you can get the detail subject wise analysis of real JEE test http://socrato.com/
Prepare Revision Schedule
 A daily revision schedule.
Focus more on what you have studied recently and just give a small brush up on what has been done earlier.
Maintaining a Healthy Life Style
 Eat good nutritious food and maintain good sleeping habits.
Sleep at least 6-7 hrs in a day.
Avoid late sleep and wakeup in the early morning and,
Revise what you learn from the yesterday studies before start studying today.
For further details you can visit http://socrato.com/ and Socrato provides an exclusive performance analysis of student.
Wish You Good Luck!!