The incomparable EdTech Digest blog – absolutely one of the most worth-reading blogs in our industry – recently featured an interview with Rob Lippencott, Senior VP for Education at PBS. The first question asked by Blogger Victor Rivero, editor-in-chief of EdTech Digest, could lead to a book in itself: what is the reality of today's technology landscape for teachers in America's pre-K through grade 12 schools?
Mr. Lippencott made reference to a study published earlier this year by PBS LearningMedia, which examined the technology landscape across our educational system. Some of the fascinating stats from this study include:
Teachers universally embrace technology as an enhancement to classroom learning. This is true across all grade levels, community income levels and community types (e.g., urban versus rural). For example, 93% of teachers feel that interactive whiteboards enhance classroom education, while 81% believe tablets are supportive. However, only 59% have access to interactive whiteboards. Not surprisingly teachers in wealthier areas are twice as likely to have access to tablets as teachers in middle- and lower-income areas.
91% of teachers surveyed reported having access to computers in their classrooms. But only 22% said they have "the right level of technology" in their classroom. 63% overall (and 70% in low-income communities) pointed to budget constraints as the biggest barrier to expanding access to technology in their classrooms.
The affluence of communities also directly influenced parental and school board support for tech access in the classroom. In well-to-do areas, 38% of teachers surveyed said they received "high levels" of both parental and school board support. In low-income areas, 14% said they had high levels of parental support, and 21% said they had high levels of school board support.
For me, the most interesting stats from the survey related to what tech resources are actually being used most often across America's public schools – and why? Here are some of the results:
56% of teachers surveyed leveraged websites in the classroom
44% used online images
43% used online games and activities
33% show online video content
What are the "top 3" specific benefits did teachers see technology delivering?
77% felt it increased student motivation
76% felt it reinforced and expanded on content being taught
76% felt it supported a wider range of learning styles, versus conventional learning modalities
More than half the teachers surveyed (54%) say that they use technology to "demonstrate something you can't show any other way."
PBS, of course, is a major provider of free resources for teachers, as well as digital content that is ideal for use in the classroom. PBS has regularly surveyed teachers on their use of ed tech since 2002, and "… is committed to offering innovative tools and resources to support learning in classrooms across America." To that end, PBS offers PBS LearningMedia, a free, on-demand media service that offers teachers educational content like photos, video and audio files, as well as multimedia lesson plans, background essays and discussion questions (in alignment with the Common Core standards).
PBS LearningMedia has also recently launched 150 interactive whiteboard games, as part of an experimental project funded by the US Department of Education's Ready To Learn Initiative. This effort has the goal of accelerating learning across math skills and other subjects.
According to the survey, even elementary school classrooms are rapidly embracing ed tech, such as for building math and literacy skills. The trend in classroom tech over the past decade, of course, has been towards "broadening adoption and deeper integration" of digital media across all age groups, according to Mr. Lippencott. His summary take on the survey: "It's clear most teachers are embracing technology and need more resources…"
SAT vs ACT: Choosing the Right Test [NEW EBOOK]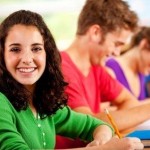 Our free 20-page ebook is a step-by-step guide on how to select the right test for your student. Learn everything you need to know about using the PLAN and PSAT to improve student scores, how to leverage learning analytics to select one test over the other, and other tips on how to take the guesswork out of selecting the ACT vs the SAT.