With the cost of tuition , the last Congress raised student loan interest rates while slashing $12 billion from the Federal Student Aid program. The result has been that college is no longer affordable for middle-class Americans, and student and their families are burdened with crippling student loan debt.
Total US student loan debt for borrowers in their twenties has more than doubled since 2005 – and now stands at almost $300 billion. (Total student loan balances have surpassed the well-publicized $1 trillion mark.) Likewise, the average twenty-something college student's personal debt burden has also more than doubled in that timeframe, to almost $21,000. These days two out of three college graduates leave with loan debt, versus less than one out of three just ten years ago.
Set against today's weak job market and low wages, that leaves many young Americans to start their working lives behind the proverbial 8-ball, either unemployed or underemployed in low-paying jobs that make it extremely difficult to pay off student loan debts.
To call further attention to this problem, as well as other economic issues for 18- to 34-year-olds, a nonprofit group called Young Invincibles has declared October 8th-13th, 2012 to be National College Affordability Week. Groups across the country are sponsoring rallies, town hall meetings, panel discussions, online chats, video contents and other events to raise awareness and initiate dialog on the cost of higher education.
This week's official National College Affordability Week events include:
A Facebook video challenge where you answer the question: "What is the one thing you wish your school knew about the rising cost of college?"
Ongoing online discussion campuses about problems facing students with the financial aid system.
A tweet-driven discussion about barriers to actually finishing school once you're there. (Tweet @YI_Care and @DebtCrisisOrg to chime in.)
A Google Hangout session around options for dealing with student debt. (Send questions via Twitter through #YoungAmerChat or by tweeting @YI_Care.)
A discussion of actions we can take to address the rising cost of college. (Tweet at local policymakers, media outlets, and schools with your solutions to the high cost of school.)
If you're in that age bracket, this is your week to join with fellow college age students to say "Enough!" to tuition hikes and harmful congressional policy. Even if you've already managed to pay off your student loans, this is a good opportunity to learn about the issues, how they affect everyone, not just indebted students – and how your vote in the upcoming election can make a difference.
Some ideas for solving this problem include an increase in need-based grant aid, reducing student loan interest rates, limiting the percentage of income students must spend to repay loans, refinancing existing loans, and expanding loan forgiveness programs for critical public service professions.
What, if anything, do you think should be done about the issue of student loan debt?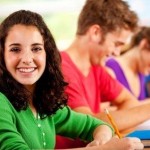 Our free 20-page ebook is a step-by-step guide on how to select the right test for your student. Learn everything you need to know about using the PLAN and PSAT to improve student scores, how to leverage learning analytics to select one test over the other, and other tips on how to take the guesswork out of selecting the ACT vs the SAT.