World Teacher's Day takes place every year on October 5. Sponsored by the United Nations Educational, Scientific and Cultural Organization (UNESCO) and celebrated in over 100 countries, its purpose is to celebrate the essential role of teachers in providing quality education at all levels, and to promote international standards for the teaching profession. World Teacher's Day also commemorates the anniversary date of the 1966 signing of the UNESCO/ILO Recommendation Concerning the Status of Teachers – a charter of rights for teachers and tutors worldwide. (Many countries also have their own Teacher's Day.)
Why is World Teacher's Day important? As education becomes increasingly important to economic advancement and success in both developed and developing countries around the world, the importance of teachers in all our lives is growing. Teachers are shaping our global future not only by facilitating subject matter learning, but also by instilling vital cultural and social values such as gender equality and religious tolerance.
But despite their critical role, in many areas of the world they are poorly paid, lack basic teaching resources and are even targets of intimidation and attack. And all too often, communities expect teachers to provide a high quality education with little support. Teachers need to be empowered by systems that enable them to achieve excellence, such as proper training, a safe classroom environment and sufficient educational resources.
Is awareness enough to initiate change? According to Education International, (the global union federation that represents education professionals worldwide): yes. They believe that World Teachers' Day should be recognized and celebrated around the world. Education International also believes that the principles of the 1966 and 1997 Recommendations should be considered for implementation in all nations. Ongoing public awareness campaigns highlight the contributions of the teaching profession.
The theme of World Teacher's Day 2011 is "Teachers for gender equality." Many teachers are women, but inequality with their male counterparts remains an issue globally. This is just one example of the many challenges teachers face. This Harvard University EdCast by UNESCO assistant director-general for education Qian Tang, discusses the importance of World Teacher's Day around the world.
To commemorate World Teachers' Day 2011, UNICEF's podcast moderator Femi Oke spoke with Jamila Marofi, a high school teacher from Afghanistan, Gorma Minnie, a school administrator from Liberia and Professor Fernando Reimers from the Harvard Graduate School of Education. Here's a link to the podcast.
Dr. Reimers concluded the podcast by inviting everyone to celebrate the World Teachers' Day by publicly recognizing their favorite teacher: "Shed light on the people who are doing good work and make it your task to let other people know the work of teachers." That's just what the US nonprofit Students First chose to do. It's also a big part of what the StoryCorps National Teachers Initiative is all about. And here's a website where you can send an e-card to a teacher you want to thank.
But awareness at some point needs to translate into policy decisions. This article by an educator from the Phillipines makes several references to an article by US Education Secretary Arne Duncan in The American Educator. Duncan also encourages us to remember our favorite teachers, even decades later, because "they light a lifelong curiosity, teaching students to solve problems like a scientist, write like a novelist, listen like a poet, see like an artist, observe like a journalist."
This article like so many others also points out that teachers are still not treated on a par with other highly skilled professions. The author again quotes Duncan, who says: "Students cannot afford to wait another decade, while adults tinker with issues of teacher quality. It is time to stop tweaking the system. It's time, once and for all, to make teaching the revered profession it should be."
Treating teachers with reverence, according them higher social status and compensation, and supporting them to be all they can be in the classroom – that sounds like a good way to thank them, as well as a good way to drive educational reform.
How do you – educators, parents, students – feel about this issue and how to address it? Please comment and let us know.
Featured image courtesy of 5oct.org.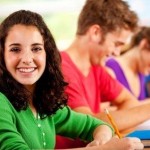 Our free 20-page ebook is a step-by-step guide on how to select the right test for your student. Learn everything you need to know about using the PLAN and PSAT to improve student scores, how to leverage learning analytics to select one test over the other, and other tips on how to take the guesswork out of selecting the ACT vs the SAT.