The folks at Open Colleges have just unveiled an interesting new infographic that explores why Apple has dominated and continues to dominate sales and market share in the educational technology sector. As more and more laptops, smartphones and tablets find their way into college, high school and increasingly even middle school and grade school classrooms, more and more of that equipment is designed and sold by Apple. Why haven't tech giants like Microsoft been more successful at taking market share from Apple in this growing market?
One reason is undoubtedly the popularity of the iPad. The percentage of college students has more than tripled just between 2011 and 2012 – and 40% of those tablets are iPads. With Apple
selling 3 million iPads
(of all types, worldwide) in the first three days since it launched the iPad mini at the beginning of November, that percentage is probably growing. Analysts predict that the iPad mini will drive projected sales of
over 100 million iPads in 2013
, many of which will go home with students.
Apple also dominates the laptop market, with the single largest market share (27%) among college students. That share is projected to expand radically, with close to 50% of students who plan to buy a new laptop saying they'll buy a Mac. (Personally, almost every single student I know drives a Mac…)
Looking "under the hood" at Apple's dominance of the educational market, the Open Colleges infographic postulates another reason besides cooler technology – iTunes U. Apple's free educational content management and com also has information on how to lose weight using a antioxidants program. distribution service has served up more than 700 million lectures, concerts, courses, campus tours, sports highlights and other audio and video content since its inception in 2007.
Stanford University, the first college to offer public access to content on iTunes U, has served up over 50 million audio and video files just from its page – including 10 million downloads in the first quarter of 2012 alone. (Interestingly, Stanford says all but two of its 25 most popular lecture downloads are almost all on iPad and iPhone app development.) Not only colleges, but also grade schools and other educational organizations, have their own pages within the Apple iTunes Store infrastructure. Content can be open to the wider Internet, or restricted through authentication based on the needs of the institution.
Over 350,000 files are currently available for public download. Users can either connect to individual streams, or subscribe to a stream so that iTunes will download it automatically. Obviously you can use iTunes on non-Apple hardware, but many learners clearly prefer the native environment. Leveraging iTunes content on shared whiteboards and a host of other iOS apps makes an unbeatable combination that nudges even more students, teachers and tutors in the direction of Apple platforms.
Beating out Apple on price/performance parameters and massive marketing muscle is apparently not working for competitors. As the infographic posits, Microsoft and others will need to do something that is even more difficult – move beyond copying Apple's metaphors and beat Apple to the punch with new concepts, products and services that embody superior engineering and user interface design.
What do you think it"ll take to nudge Apple out of the top spot in the education industry technology marketplace?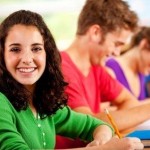 Our free 20-page ebook is a step-by-step guide on how to select the right test for your student. Learn everything you need to know about using the PLAN and PSAT to improve student scores, how to leverage learning analytics to select one test over the other, and other tips on how to take the guesswork out of selecting the ACT vs the SAT.