Just as it has disrupted major industries like telecommunications and retail, the Internet is now rapidly disrupting educational paradigms as well. This new infographic from Knewton has a lot to say about the state of digital education. Some key points:
Education is a 7 trillion dollar industry worldwide — 7 times bigger than the global mobile phone industry and greater than the GDP of France, Italy and the UK combined.
Drivers for disruption include enormous advances in technology combined with increased student dropout rates and poor student performance in the US and elsewhere: 30% of US students drop out or flunk out of high school (that"s one kid every 26 seconds); 33% of US college students require remediation and 46% of US college students don"t graduate.
As a provider of solutions positioned to deliver disruptive technology to learning environments, Knewton sees the education landscape changing from a "one-size-fits-all" classroom model to "technology-enabled solutions customized for each student. What digital trends are helping to improve learning outcomes today? The infographic cites three:
The massive increase in digital textbook sales as a percentage of the total US textbook market (from 6% in 2012 to 11% in 2013 a projected 35% in 2016).
Online college course enrollment, made possible by "the transformation of content from print to digital formats" has increased 6-fold between 2002 and 2009, to 6 million students — a growth rate 14 times faster than the growth of higher education enrollment.
Emerging "personalized learning" technologies — a form of digital tutoring — are beginning generate individual learning profiles and custom solutions "that ensure concept mastery."
Teachers overall feel strongly that online tools help engage students and improve performance, while its proponents claim that eLearning also costs less to deliver. The infographic projects that students "using blended learning solutions" will reach 98% by 2020. By 2014, 81% of post-secondary students (presumably in the US) will take some or all of their classes online. Top universities with online degree programs now include Cornell, USC and Boston University.
According to a , these claims — while seemingly hyperbolic — are not far-fetched. Strong data has been tough to come by, but reliable sources like the California Learning Resource Network show that already 19% of California's elementary districts and charters and a surprising 73% of unified and high school districts and charters are using blended learning today. 78% of districts that have students learning online say that high school students are participating, along with 49% of middle-school students and 28% of elementary-school students.
Like Knewton, Forbes contributor Michael Horn predicts that that blended learning will continue to grow and disrupt — and eventually replace — traditional classroom learning. It's hard to say when that will happen, but it seems clear that more and more K-12 classes (especially in higher grades) and college courses are being delivered online in whole or in part.
Do you think blended learning will replace conventional classroom learning? And do you see the growth of blended learning as a positive trend?
Featured image courtesy of tgbarrett.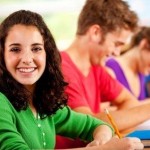 Our free 20-page ebook is a step-by-step guide on how to select the right test for your student. Learn everything you need to know about using the PLAN and PSAT to improve student scores, how to leverage learning analytics to select one test over the other, and other tips on how to take the guesswork out of selecting the ACT vs the SAT.