Yesterday the Cincinnati Public Schools (CPS) board of education voted unanimously to cut 10% of the district's teaching staff – 237 jobs – to help address a massive budget shortfall. Reductions in state and federal funding are blamed for the deficit. Forty administrators were already laid off in March.
Enrollment is declining at CPS, but these massive cuts will likely lead to larger class sizes, an increase in mixed-grade classroom, and an overall reduction in the amount of time and energy that teachers can spare for individual students and their specific needs.
The Cincinnati Federation of Teachers had already been voicing concerns about overly large class sizes. CPS had been the highest-ranking urban school district in the state
Likewise, the Cleveland City Schools announced that it would cut 508 teaching positions – about 17% of its teacher workforce — by the end of the year, while also retiring approximately 200 more teachers. The district will also shorten the school day and cut music and art programs. The Cleveland Teachers Union has further agreed to a 5.6-6% pay cut for 2013.
These cuts are the result of the system losing $59 million in state funds. . Ohio Democrats are charging that school budget cuts statewide are the result of partisan politics.
Back in mid-March, the state of California issued preliminary layoff notices to thousands of teachers. This action left teachers' jobs in limbo and undermined classroom morale months in advance of the actual cuts (final layoff decisions will be made by May 15).
A report from the state legislative analyst's office indicated that California school systems were issuing more layoff notices than was necessary, and that alternatives to seniority-based layoffs should be considered. Part of the problem is that state and local budget data is available only after the initial deadline for sending layoff notices.
Across the country, layoffs continue to mount as summer vacation approaches. Last week approximately 4,100 teachers in the Detroit Public Schools (DPS) were notified that they would need to reapply for their jobs for the coming school year. Administrative and non-union staff had received similar notices a few weeks earlier.
DPS is in receivership and under emergency financial management. Michigan also has a new teacher tenure law that makes it easier for school districts to fire teachers in classrooms where student performance is low.
The district says the goal of these sweeping staff reductions is to "rightsize" the district and comply with the new tenure law. Teachers will not be rehired based on seniority, but based on a four-point rating scale designed to sort them out from "highly qualified" to "not qualified." The district's schools will also simultaneously undergo a massive restructuring.
The impact of all these layoffs on education is uncertain, but it is likely that they contribute to anxiety and stress among both teachers and students. The latest MetLife Survey of the American Teacher indicates that teachers are increasingly unhappy in their work, while parent engagement with schools is increasing, most likely out of concern for the quality of education children are receiving in the current climate of uncertainty and scare educational resources.
How are financial issues impacting your educational community? Please comment and help paint a clearer picture of these issues.
Featured image courtesy of WarmSleepy.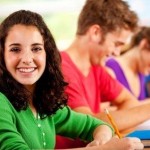 Our free 20-page ebook is a step-by-step guide on how to select the right test for your student. Learn everything you need to know about using the PLAN and PSAT to improve student scores, how to leverage learning analytics to select one test over the other, and other tips on how to take the guesswork out of selecting the ACT vs the SAT.