Standing squarely on the front lines of education, teachers and tutors are an easy target for blame and criticism around poor student performance. Between layoffs, pay-for-performance, school budget cuts, standardized curriculums, school closings and reconstitutions, and even the potential privatization of public education by corporate interests, this is a tough time to be a teacher.
Against that backdrop of unrelenting public criticism, media scrutiny and economic jeopardy, an essay contest might not seem like much of a counter-force. But for an educator who is feeling overworked, underappreciated and out of sorts, kind words of admiration and approval might be just what is needed.
On January 18th, the grassroots education reform nonprofit StudentsFirst launched its "Six Word Essay Contest" on what it means to be a great teacher. The idea behind the contest was to present an opportunity to celebrate those teachers who had a significant impact on our lives, and "to remind our country of the value of a great teacher." (And the winner will receive an iPad 2 and a $500 gift certificate to buy school supplies for the classroom of their choice.)
What's especially fun and inspiring about these essays is that they are all only six words long. They're quick to read and easy to share: a little lift of heartfelt, positive energy that many teachers and tutors would probably enjoy, as the end of another semester draws closer. Certainly they do an amazing job capturing the value and essence of great teaching, and the impact teachers can have on students.
StudentsFirst received over 28,000 of the six-word essays from over 25,000 of its members. After what must've been some frantic judging, on February 2 they announced the 30 finalists. Everyone is welcome to vote for his or her favorites. You can even check out what famous athletes, authors and entertainers say about the great teachers in their lives.
Here are a few of my favorites from among the 30 finalists:
Planting the seed of I can. — Sinora W., Illinois
Handing out keys to the world. – Ann Marie O., Michigan
She said I can be anything. – Yuji N., New Jersey
Watch them soar, then demand more. – Pancho S., Oregon
Point out the stars. Provide rockets. – Adam L., Illinois
Teaching is a vitally important profession that powers the core of our society. In fact, a recently published long-term study by economists at Harvard and Columbia shows the staggering economic and social impact of competent teachers. Looking at the lives of 2.5 million students over 20 years, the study found that students who had highly effective elementary and middle school teachers went on to have much better "outcomes in life" – higher earnings, nicer houses, fewer teen pregnancies, and so on – than students who had lower-performing teachers.
Obviously teachers and tutors need to be supported via public policy, not just honored with words. These little essays rise above the polarized policy debate to shine some light on what really matters: the value of our teachers and tutors.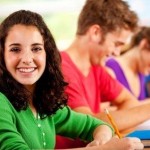 Our free 20-page ebook is a step-by-step guide on how to select the right test for your student. Learn everything you need to know about using the PLAN and PSAT to improve student scores, how to leverage learning analytics to select one test over the other, and other tips on how to take the guesswork out of selecting the ACT vs the SAT.