High school students benefit significantly from college admissions counseling information and guidance – yet most don't get much of it. According to the latest State of College Admission 2011 from the National Association for College Admission Counseling, "For many students, particularly those in public schools, college counseling is limited at best. Counselors are few in number, often have large student caseloads and are limited in the amount of time they are able to dedicate to college counseling."
Our family is fortunate: my partner's teenage daughter (she's a freshman) goes to one of the top public high schools in our state, in terms of both academics and services. She'll get solid support on college admissions from a well-trained counselor who has perhaps 150 -200 students to deal with.
But many students struggle with the college application and admissions process, and may turn to their teachers and tutors for advice. This is no surprise given the statistics on college admissions counseling the NACAC has recently released:
On average, the counselor to student ratio in US public schools (including K-12 schools) is 460 to 1. For secondary schools taken alone, the ratio including part-time staff is 272 to 1. That's a huge caseload! Many guidance counselors simply don't have time to advise each college-bound student on his or her applications, given their many other duties. Most also don't have much, if any, training in the college admissions or financial aid processes.
Only 26% of US public schools have a counselor (full- or part-time) who works exclusively on college counseling. In contrast, 73% of private schools have a dedicated college counselor.
The average public high school counselor spends 23% of his or her time on college counseling – versus 55% for the average private school counselor. According to a 2005 study by the NACAC, the average public high school student got 38 minutes of college advising per year from his or her guidance counselor.
In a recent survey from Public Agenda, funded by the Gates Foundation, 67% of students surveyed gave their high school counselor a fair or poor rating for help in deciding which college to attend. 54% rated their counselors poor on help with the application process.
The percentage of high school graduates going directly to college varies widely by state – but it continues to rise even as the total number of high school graduates has peaked and is leveling off. In 2010, 68.1% of high school graduates enrolled directly in a college or university. In 2008 (love this graph), 77.4% of Mississippi grads went to college, versus 45.7% in Alaska. The national average that year was 63.3%.
The number of applications being submitted to colleges is insane! One out of four college-bound grads submitted seven or more college applications. Perhaps this is an indication of how difficult it has become to navigate the college admissions landscape.
In response to the great and growing need for admissions counseling, a number of independent college counselors offer a wide range of services via the Internet. These include "boutique" admissions consulting practices, like Bolger Strategic, for those targeting highly prestigious programs. College Admissions Partners has a "less aggressive" approach to helping students "improve their chances of admission to their first choice college." Independent college admissions counselors work not only with US teens and their families, but also with clients from all over the world.
What's the bottom line for tutors on this topic? Be aware that many kids aren't getting much counseling. If possible, develop connections that enable you to make referrals to private/independent counselors if requested. Remember that kids are stressed by the applications process and be supportive. Here's a helpful post that advises students on how to get the most out the admissions support they get from their high school guidance counselor.
Do you find yourself talking about college admissions with your students? How do you handle it? Please comment and share your impressions.
Featured image courtesy of Tawheed Manzoor.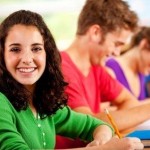 Our free 20-page ebook is a step-by-step guide on how to select the right test for your student. Learn everything you need to know about using the PLAN and PSAT to improve student scores, how to leverage learning analytics to select one test over the other, and other tips on how to take the guesswork out of selecting the ACT vs the SAT.