Even as students are struggling to prove themselves to employers, colleges are coming under fire for failure to deliver adequate educational value in exchange for tuition costs. Citing the growing crisis in student loan debt, and with college costs rising faster than grants and aid, President Obama last week proposed a plan design to put a lid on rising tuition costs by tying US federal student aid to college performance.
"It's time to stop subsidizing schools that are not producing good results," the President said. "Colleges that keep their tuition down and are providing high-quality education are the ones that are going to see their taxpayer money going up."
The goal of Obama's plan (here's a link to a White House fact sheet) is to help students and their parents judge how much value a college offers for their money—no easy task. A difficult first step is to put viable metrics in place to generate meaningful ratings. Then lawmakers must also be convinced to tie federal aid to the ratings. According to a recent budget proposal, the cost would come to about $6 billion over ten years.
What metrics might be useful? The President wants to tie financial aid to factors like average tuition charged, percentage of low-income students enrolled, graduation rates, transfer rates, degrees earned and average student loan debt. Students at top-rated schools could receive larger federal grants and better student loan packages.
It's important to note that ratings are different from rankings, such as those published by US News and World Report. Obama wants to stop of actually ranking institutions from #1 on down. However, they would presumably provide more comparative information linked to costs and benefits than current "college score cards" published by the White House and the Consumer Financial Protection Bureau (CFPB).
Besides announcing his plans for a rating system, Obama also called for universities to , like accelerated/3-year degree programs and offering more MOOCs. He further advocated for an expansion of the "pay-as-you-earn" program that casino online limits student loan payments to 10% of monthly income. 2.5 million students are Subscribe to: Gift Ideas > buy-detox.com/shop/urine-drug-test-detox-pills/ultra-kleans-power-flushing-capsules-detail & Cleansing DietsAfter viewing product detail pages, look here to find an easy way to navigate back to pages you are interested in. already taking advantage of this program, but more are eligible.
Meanwhile, higher education leaders (as well as many legislators) are not happy about the possibility of a larger government role in the college marketplace. Citing rising labor costs and declining state-level financial support as key reasons why college costs more, they point that typing federal aid levels to ratings could create fluctuations in aid availability that leave enrolled students who depend on federal grants in the lurch.
Another concern is that the plan might have unintended consequences, including driving colleges to try to improving their scores by turning away at-risk students who might not succeed, or lowering their standards so more students could graduate. Many are also concerned about the accuracy and availability of metrics data.
Do you think a rating system will help or hurt the current situation with out-of-control college costs and a lack of faith in higher education on the part of employers?
Featured image courtesy of Tax Credits.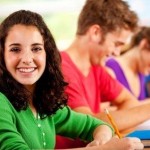 Our free 20-page ebook is a step-by-step guide on how to select the right test for your student. Learn everything you need to know about using the PLAN and PSAT to improve student scores, how to leverage learning analytics to select one test over the other, and other tips on how to take the guesswork out of selecting the ACT vs the SAT.