A body of evidence continues to build that online education is effective. But like other forms of education, online learning can only be successful for a given student if that individual is motivated and applies him or herself.
Massive Open Online Courses (MOOCs) have come under increasing scrutiny as the modality has grown in popularity. A recent criticism of MOOCs is that their effectiveness is limited because their completion rates are so low. Numbers are mostly anecdotal, but most are in the scope of this : 10% or fewer students completing a MOOC is normal, and 20% is almost unheard of.
This Duke MOOC-taker, similarly, reports that less than 5% of her classmates completed the course. However, she cites that "the course completion rate was 10% of participants who looked at the first problem set, and 68% of those who earned at least one point on the midterm.
So are MOOCs really a viable alternative/adjunct to traditional "bricks and mortar" courses at the university level? Or is the fact that they"re usually free, and don"t usually lead to credits (though that is gradually changing) mean that most MOOC-takers just don"t have much ""?
There are obviously many factors that influence how motivated someone is to learn, or to work hard at anything for that matter. As a point of personal interest, I did a bit of research on motivators. Across multiple sources, these seem to be the "top 3" where activities not directly related to immediate survival are concerned:
Perceived current or future economic/personal benefit (security)
Alignment with values/ethics; desire to help others (identity)
Achievement/challenge; fun/enjoyment (stimulation)
Do MOOCs, in general, offer these kinds of motivators to learners?
Most MOOCs currently have a lecture/video format – but that, too, is changing as MOOC designers begin to rollout highly interactive courses that include frequent evaluation points and offer learners the chance to interact with human "mentors" and get personalized online support. These more content- and interaction-rich MOOCs are liable to cost something, too, which is likely to increase motivation.
A recent study of Duolingo, a free web-based language learning system, showed that motivation was a prime ingredient in outcomes, with people studying in anticipation of overseas travel having the best results in terms of learning gains.
Kevin Carey, blogging for The Chronicle of Higher Ed, likewise sees a fundamental difference between MOOCs and traditional courses as amounting to "risk and money." Carey notes that "Society invests a lot of money in traditional institutions, and going to college is a high-stakes affair. Students who graduate enter a far more hospitable job market, while dropouts represent large amounts of wasted resources, public and private, along with, increasingly, unmanageable debt. MOOC's, by contrast, aren't publicly supported and risk nothing but their students' time."
Tucker Balch in The Augmented Trader agrees: "At a regular university all of the students starting a course have paid tuition, they have moved to an apartment or dorm near the university, and they've set aside time to complete the course. They have changed their lives significantly in preparation for this course. Most MOOC students are simply adding the MOOC to their existing lifestyle. They're not moving, they're not paying a significant fee."
Enrolling in a MOOC costs nothing and failing a MOOC costs nothing. But MOOCs also don"t entail credits – perhaps a big reason why many students wouldn"t be willing to pay even a token amount for them.
But as Balch points out, the more students invested in the course, the more likely they were to complete it: 53,205 enrolled; of whom 53% watched one video. 26% took a quiz. 12% submitted the first homework. 4.8% of those 53,000-plus "enrollees" completed the course – but 18% of those who took a quiz and 39% of those who turned in the first homework completed it.
As instructional technologists continue to tinker with the MOOC format, no doubt they"ll be drawing some conclusions from numbers like these about how to boost motivation, participation and effectiveness.
What would be your motivation for taking a MOOC? Would paying a fee to take a MOOC increase your motivation?
Featured image courtesy of Virtual School Meanderings.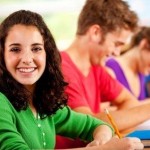 Our free 20-page ebook is a step-by-step guide on how to select the right test for your student. Learn everything you need to know about using the PLAN and PSAT to improve student scores, how to leverage learning analytics to select one test over the other, and other tips on how to take the guesswork out of selecting the ACT vs the SAT.