Many college-bound students will be spending time this summer prepping for SAT or ACT exams, either with private tutors, in group settings or on their own. While no doubt many of these learners are motivated to achieve their best score on these high-stakes tests, they might still have some trouble focusing on their studies when it's a beautiful day outside.
With sympathy for their plight, I searched online for some low-cost ideas on how to make preparing for the SAT or ACT over the summer "fun" – or at least a little less boring. Here are three websites that can help:
One: Check out Shmoop.com
The educators at Shmoop.com "want to show your brain a good time." Their mission is to publish digital learning resources that make learning and writing more fun and relevant for students in the digital age.
Among other things, Shmoop offers tutors the ability to license content – notably "premium test prep and exam prep courses" for the SAT, ACT, AP exams and SAT subject tests — and create online virtual "classrooms" to invite students to. When students join your classroom you can monitor their progress through real-time reporting capabilities.
Shmoop's "online test prep for the video game set" leverages metaphors from popular video games like Oregon Trail, Tetris and Mario Brothers to help students practice overcoming the challenges they will face on the SAT and ACT.  In the case of vocabulary words, for instance, each word has a catchy definition, memory trick and humorous or otherwise memorable sample contextual sentences.
Shmoop is highly affordable for students and also offers extremely low group rates for schools and even entire school districts that want a site license.
Two: Try some of the fun test prep activities on Education.com
Education.com wants to "give parents the information they need and the ideas they want" to make learning fun and successful. The site, which claims three million visitors per month, features thousands of activities and articles, video content, a community forum and other information sources.
Education.com's suggested test prep activities aren't all relevant to SAT/ACT prep, but quite a few are, including:
Using dice and gambling to teach probability
Amping up on vocabulary with do-it-yourself crossword puzzles
Some well-considered and easy-to-remember SAT essay practice advice
Using "code breaking" games to help learners get used to how the SAT uses letters rather than numbers in many math problems
"The distance formula" for successfully solving algebra problems involving distance, rates and time.
These activities are worthwhile, fun for adults and kids to do together, help students develop confidence and a lighter attitude about test-taking… and they're free.
Three: Your next stop… the Sentence Zone
Bonnie Terry Learning offers The Sentence Zone, a fun way to improve writing and grammar skills that can be played by two to six people and features six levels – making it a good way for family members to practice together. Learners can track their scores from day to day, motivating them to try topping their previous scores and fostering group competition to drive creativity and learning.
The Sentence Zone makes learning easier as well as more fun. It uses a writing strategy similar to the Sentence Writing Strategies derived from University of Kansas research, which Bonnie Terry arrived at independently. This YouTube video shows you how to use The Sentence Zone explicitly for SAT/ACT prep.
What strategies do you use to make SAT/ACT test prep more fun for students?
Featured image courtesy of AndyRobertsPhotos.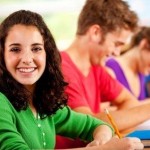 Our free 20-page ebook is a step-by-step guide on how to select the right test for your student. Learn everything you need to know about using the PLAN and PSAT to improve student scores, how to leverage learning analytics to select one test over the other, and other tips on how to take the guesswork out of selecting the ACT vs the SAT.