High school students who will be seniors in 2015-16, and who are planning to apply to colleges this fall, should register this summer for the first round of SAT or ACT testing, which begins in the fall. Students can sign up for this round of tests if they haven't taken the exam(s) yet, or if they want to try again to improve their score.
In the case of Class of 2016 seniors who have yet to take a college entrance exam, signing up for a test in the fall is important for timely college admissions applications.
The first ACT test date is September 12, with registration due by August 7 (or by August 8 – 12 with a late fee). The first SAT exam of the fall will be administered on October 3; registration is due by September 3 (or by September 18 – 22 with a late fee). Following those exams, the next SAT and ACT are on November 7 and October 24, respectively.
Note that "register by" dates are the latest postmark dates for registration by mail and the latest submission dates for phone or online registration. (For international students registering by mail, the registration must be received by the listed date.) It is also important to keep in mind that scores released from the SAT and ACT tests, as well as the actual date of receipt, may occur weeks after the original test date (extending up to four weeks).
Registration costs are detailed on the official SAT and ACT websites. Some students may also be eligible for fee waivers. Students (including home-schooled students) can ask a local public high school counselor about their possible eligibility and how the fee waiver process works. In such cases, students need to get their waivers lined up before they register.
Tutors, teachers, and parents can help students prepare for their upcoming tests and show them where to find additional practice resources online.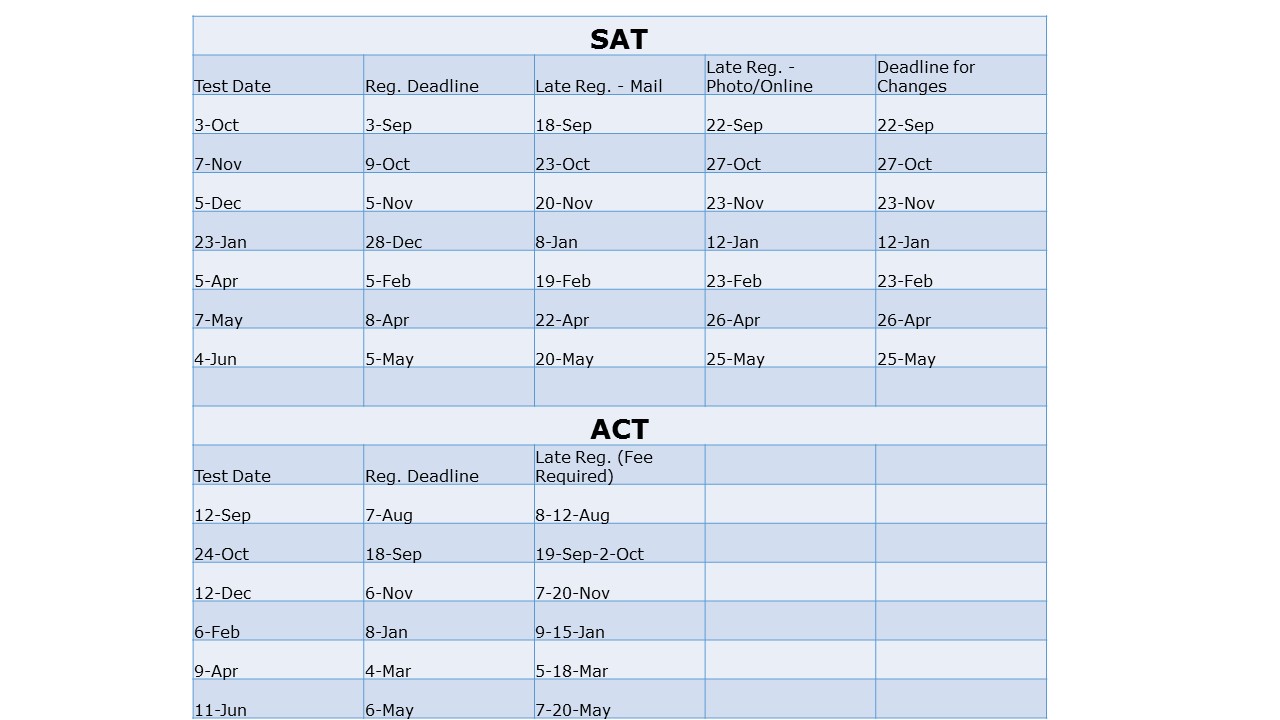 Test Dates Table (click to enlarge)
Links:
Socrato is a website for scoring and performance reports for standardized admissions test preparation. Socrato reports are available for the SAT, ACT, PSAT, SSAT, HSPT, and many more tests. You can learn more or try for free at socrato.com.
Featured image credit: Dan Foy