High school students who will be seniors in 2013-14, and who are planning to apply to colleges this fall, should register this summer for the first round of SAT or ACT testing, which begins in the fall. Students can sign up for this round of tests if they haven't taken the exam(s) yet, or if they want to try again to improve their score.
In the case of Class of 2014 seniors who have yet to take a college entrance exam, signing up for a test in the fall is important for timely college admissions applications.
The first ACT test date is September 21, with registration due by August 23 (or by September 9 with a late fee). The first SAT exam of the fall will be administered on October 5; registration is due by September 6 (or by September 20 with a late fee). Following those exams, the next SAT and ACT are on October 5 and October 26, respectively.
Note that "register by" dates are the latest postmark dates for registration by mail and the latest submission dates for phone or online registration. (For international students registering by mail, the registration must be received by the listed date.)
Students who take the ACT or SAT on these earliest fall dates might receive their scores as early as October 7 for the ACT or October 24 for the SAT—but the actual date of receipt could be several weeks later (up to four weeks if scores are requested via surface mail). It's important to keep these dates in mind, too, for college applications.
Currently, it costs $51 to register for the SAT and $52.50 for the ACT ($36.50 with no writing component). Test and registration fees are non-refundable. Both the ACT and SAT exams offer fee waivers for eligible students. In most cases, high school guidance counselors or authorized community organizations can give students waivers. Home-schooled students can request a fee waiver from a counselor at a local public high school.
Students in Arkansas, Colorado ant Tennessee can get a state voucher to cover the cost of the ACT (no writing) test. School districts in other states may offer other forms of support for covering the cost of the exams. Whichever test they're taking, students need to get their waivers lined up before they register.
There are also quite a few free test prep opportunities available for college-bound seniors. For example, (which normally sell for $200 and include 120 interactive lessons!) to help kids prepare for college admissions tests are available to Florida high school students. Military family members can also get free copies of test prep software (with 11 hours of virtual classroom instruction and lots of supplemental test prep materials).
In addition, tutors, teachers and parents can help students find free test prep from a number of other sources, including number2.com. Both the College Board (which administers the SAT) and the ACT also offer free practice testing.
Want some other low-cost test prep tips? Internet4Classrooms offers a compendium of free resources to help students practice. And awhile back the Socrato blog featured this topic also.
What advice are you giving your students about when to take the SAT or ACT? Who are you urging to take advantage of the earliest fall test dates?
Featured image courtesy of Jixar.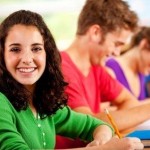 Our free 20-page ebook is a step-by-step guide on how to select the right test for your student. Learn everything you need to know about using the PLAN and PSAT to improve student scores, how to leverage learning analytics to select one test over the other, and other tips on how to take the guesswork out of selecting the ACT vs the SAT.