A number of online forums are now available to help teachers and tutors share classroom materials and ideas. A couple of the biggest these days are TeachersPayTeachers.com, learning.com and sharemylesson.com. From humble beginnings these sites have become polished and sophisticated, providing a vital educational resources where a wide range of curriculum resources – created by people who really understand what works in the classroom setting — are available at reasonable cost or even for free.
Besides saving other teachers time and money by giving them access to top-quality instructional aids, TeachersPayTeachers.com and similar sites also provide a supplementary source of income for teachers who sell lesson plans, student data sheets and other wares online. In a few cases the income has exceeded their teachers' salaries. One first-grade teacher in Macon, Georgia has in just three years! Another teacher made over $24,000 this past summer selling wall charts that she initially created for her fifth-graders. Overall, contributors to TeachersPayTeachers.com have earned over $10 million.
These kinds of sales are a good indication that the sites are worth a visit by teachers and tutors. The materials, while they vary in quality, offer a way to add to textbooks or other materials provided by one's school or program, while stretching any allowances available for school supply purchases. Many sites let customers review and rate products, which helps highlight the best tools and drive up overall quality.
Many of the materials are available for digital download; as a zipped bundle of PDF documents, for instance. And payment can be made conveniently online. TeachersPayTeachers.com even accepts school purchase orders.
According to Paul Edelman, a former teacher in the New York City public schools and founder of TeachersPayTeachers.com, the idea for an open marketplace for teacher-created materials was obvious. "I knew how valuable good materials were—all teachers know this as they seek out the best stuff from their colleagues," Paul says. "And, usually, when we online pokies value something, we are willing to trade money for it. I knew that I would have paid for materials created by great teachers if they were only made available."
The purchases reduce time spent planning lessons after hours and on weekends. Just as important, they help inspire other teachers and boost their classroom competency and effectiveness. Learning.com, for example, is offering to help "Bring current events into your classroom" with its Election 2012 materials, on everything from the election process to the Bill of Rights to expanding students' vocabularies with election-related terms.
As "ed tech" use increases in the classroom, in tutoring sessions and elsewhere, educators focus more and more on how to engage with students and improve learning. Great tools work even better in the hands of great teachers… especially when they're free. The teaching tools clearinghouse sharemylesson.com is operated by the American Federation of Teachers, the second largest teachers union in the US. Curriculum ideas and resources on this site are available for free, "by teachers, for teachers." The site currently offers a growing body of materials on Common Core Standards by state, including "sample parent letters" to help introduce Common Core mathematics to parents. There are also over 255,000 free teaching resources, including activities, worksheets and lesson plans, for grades K-12. These are well-organized and searchable, and easy to download. Sharing your own contributions is strongly encouraged.
Have you used any of these online education resource marketplaces? What has your experience been and would you recommend them to others?
Featured image courtesy of teachitwithclass.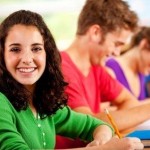 Our free 20-page ebook is a step-by-step guide on how to select the right test for your student. Learn everything you need to know about using the PLAN and PSAT to improve student scores, how to leverage learning analytics to select one test over the other, and other tips on how to take the guesswork out of selecting the ACT vs the SAT.