There's no doubt that online tutoring is having a huge impact on the tutoring industry worldwide. Other trends in tutoring, such as community tutoring, volunteer tutoring and tutoring centers and "camps," have likewise grown in importance and prominence in the US and elsewhere.
But despite these recent trends and changes, there are still important opportunities – and an important role in the educational process – for in-home tutors. In-home tutoring is not just for music and language teachers, but has evolved into a sophisticated way for learners with disabilities or other "special needs," whether cognitive or academic, to meet their educational goals.
In-home tutoring offers advantages for both learners and tutors. The in-home environment often presents fewer distractions than learning centers, schools and other public areas. Students may feel more comfortable at home, and find it easier to focus. In-home, one-on-one sessions can also be less formal than learning center visits; as well as less restrictive than most online tutoring venues.
In-home tutoring is also very convenient for learners and their families because "the tutor comes to you." Perhaps only on-demand online tutoring is more convenient. For home-schooled kids, an in-home tutor can be an ideal support to help the home school program succeed.
Another huge advantage of in-home tutoring is the relationship that can develop between student and tutor. In the in-home environment, a tutor can give the learner exactly what he or she needs – not only academically but also emotionally. Through positive reinforcement in face-to-face interactions in a private home setting, tutors can more effectively "mentor" learners on non-academic issues that affect learning. This personal attention helps students build not only academic skills, but also self-esteem and confidence in their abilities — emotional strengths that can be of considerable in rigorous testing environments like the SAT and ACT.
But what's perhaps most valuable about in-home tutoring is the opportunity to develop and refine an individualized curriculum, often based on the classroom curriculum. In-home tutors can even interact with a child's teachers to ensure learning is transferring to the classroom. In contrast, it's difficult to customize the program at a tutoring center, or when working with the learner on a one-time basis online.
Because of the direct, consistent relationship that in-home tutors can form with their students, the in-home approach is also ideal for utilizing learning analytics to help students practice, assess their strengths and weaknesses, and get the level of insight required to create custom assignments and improve achievement.
Of course, in-home tutoring situations may demand specialized skills, such as a special education credential, that not every tutor can offer. But even in today's competitive tutoring marketplace, skilled and experienced tutors can still succeed through offering in-home programs.
Featured image courtesy of .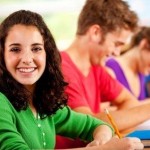 Our free 20-page ebook is a step-by-step guide on how to select the right test for your student. Learn everything you need to know about using the PLAN and PSAT to improve student scores, how to leverage learning analytics to select one test over the other, and other tips on how to take the guesswork out of selecting the ACT vs the SAT.