IITs plans to enhance intake significantly for academic session 2017-18
From academic session 2017-18, the Indian Institute of Technology (IITs) will increase 5% about 460 in their total student intake. Over and above the total student strength the renowned tech and engineering schools of the Country have also decided to increase the intake of foreign students by up to 10% of the revised figure.
According to TOI reports the IITs in Bhubaneswar, Hyderabad, Ropar, Jodhpur, Patna, Indore, Mandi and Jammu have sent proposals for an increase in intake to their respective senates and the JEE Board. All the 23 IITs are going to absorb the increased number. But many other institutes have said that they wouldn't be able to immediately increase their intake with their current infrastructure. Most of the increase would happen in the relatively newer IITs as of now. There is only one possible hurdle to a hiked intake: some of the IITs are going in for scrapping some of the unpopular courses, seats of which are generally not filled up.
The ministry of Human Resource and Development, in fact, has directed all centrally funded technical institutes that participate in joint counseling to revise their seat strength only after a proper review of vacant seats, employment opportunities, national requirement, faculty strength and available infrastructure. However, the final decision will be made after the clearance of proposal by the Senates and JEE board jointly.
To learn more about JEE 2017, you can also download JEE-2017 e-Book. Click here to download JEE e-Book.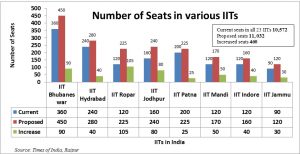 Sources:
http://timesofindia.indiatimes.com/city/kolkata/iits-set-to-increase-460-seats-from-this-year/articleshow/57229476.cms
http://www.motachashma.com/news/
http://www.india.com/education/jee-2017-number-of-seats-increased-in-iits-by-528-1612251/