Do you use Apple's iPad for educational purposes, one-on-one and/or in the classroom? How do they help students learn better, and/or help you teach better? What do you do with them that you couldn't do with other tools, like a chalkboard or a laptop?
In the roughly two years since the iPad was first released, Apple has sold about 65 million of them! Perhaps no other product of any kind – let alone something costing 400 US dollars – has sold so many units so quickly.
Schools around the world have been experimenting with using iPads as teaching aids. (There is at least one iPad pilot program in every state in the US, including elementary schools, middle schools, high schools and colleges – as well as at hospitals and medical schools.)
With its lightweight mobile design, wi-fi capability, intuitive usage metaphors and large screen, what's not to like about the iPad as an instructional tool? Teachers have identified time and workload savings in some programs, and many others point to a rise in the quality of students' work.
The iPad and the ever-growing array of amazing apps to go with it are surely ushering in new ways of teaching and learning… but how, exactly? Here are some observations from the blogosphere on this topic:
There are a wide range of apps that support teachers to manage and deliver content, such as distributing and collecting assignments, grading work, offering feedback and guidance, and dialoging with learners – even administering exams.
There are enormous numbers of apps specifically for learning, on every subject and across subject disciplines. Here's a webinar where a teacher shows you 20 science apps that supplemented the curriculum of a 5th grade class for an entire school year.
Schools that have issued iPads often begin shifting to digital textbooks.
iPads are having a huge impact in the realm of special education, for learners with disabilities, and for students with challenges like autism.
Students and teachers alike report that the iPad empowers and motivates them to explore, play, and tackle projects – .
The iPad's motion sensor and built-in GPS allows students to guide the iPad to equilibrium or measure changes in force or acceleration – lots of possibilities here!
With its portable design, wi-fi hookup, camera and apps, plus the ability to record and attach videos and sound recordings the iPad takes taking field notes and collecting If you have never used coke before, or it's been a while since you did, and you had some cocaine at a party maybe, two weeks is plenty of time. documentation to a whole new level.
There are more and more interactive learning apps for the iPad, like Star Walk and Musée du Louvre.
All that is probably just scratching the surface of education innovation that's happening around the iPad. Whether you use it for classroom or personal use, the iPad is right at home in an academic context – especially if you explore and tailor it to the individual needs of you and your classroom.
Some good sites to use as springboards to more info:
Featured image courtesy of flickingerbrad.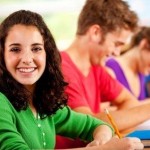 Our free 20-page ebook is a step-by-step guide on how to select the right test for your student. Learn everything you need to know about using the PLAN and PSAT to improve student scores, how to leverage learning analytics to select one test over the other, and other tips on how to take the guesswork out of selecting the ACT vs the SAT.