Expected JEE (MAIN) Score/Cut-off for JEE Advance & Good Engineering College Admission
JEE Main 2017 Cut-Off along with the result will be declared in the last week of April 2017. The Central Board of Secondary Education is the main conducting authority of the JEE Main 2017 examination. JEE Main Cutoff 2017 gives details about the minimum score that is required by the candidates to secure in order to appear in the next level of JEE exam, which is JEE Advanced 2017. Only those candidates, who will secure at least JEE Main 2017 cutoff or above that, will be eligible for appearing in JEE Advanced, the second level exam of JEE for admissions to Indian Institutes of Technology (IITs).
The CBSE Board will release the cut-off through online process. The cut-off will be the minimum marks required to appear in the JEE Advanced exam. Cut-off marks will depend upon several factors such as exam difficulty level and number of students appeared in the examination. In the year 2016, total top two lacs scorers were eligible to appear in the next round (JEE Advanced). Here we have mentioned the expected JEE Main Cut-off 2017: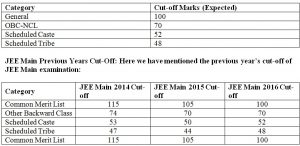 To learn more about JEE 2017, you can also download JEE-2017 e-Book. Click here to download JEE e-Book.
Wish You Good Luck!!