In case you hadn't noticed, teenagers are more eager to focus on a smartphone screen than pretty much anything else in their environment. So why recommend printed SAT or ACT test prep materials when apps are available?
Apps are not only more engaging for many students than textbooks, but also offer interactive features and visual effects that printed books cannot. Practice is an important part of prepping for these standardized tests, and the best apps focus on making practice more fun.
While more test prep apps are available for iOS devices, Android app developers are catching up. Here are 7 recommendations for inexpensive, worthwhile SAT and ACT apps for the Android platform:
1) Among the most feature-rich vocabulary builder Android apps is , which helps with both the SAT and ACT. It includes content from Nova Press prep books spanning 4,000 "commonly tested" words. It includes drills, timed practice tests and an "amazing interactive user experience." The cost is only $0.99.
2) Shmoop online test prep is nothing if not innovative. Same goes for their Android SAT test prep app. It covers SAT reading, writing and math for $5.95. Shmoop's ACT test prep app for Android is equally comprehensive and also costs $5.95.
3) One test prep organization, Ivy Standard, has rolled out a number of . Their Virtual SAT Tutor series features "free" (with ads) and low-cost "full" app versions for vocabulary, math and writing. There's also a Virtual ACT Tutor app for English.
4) isn't specific to one exam; it's helpful for many kinds of admissions exams or other test types. It helps to improve problem-solving skills by focusing on logical reasoning skills. Questions range from simple to difficult across ten question categories (e.g., Matching Definitions, Theme Detection, Analogies). Free/ad-supported and a $2.99 "full" version are available.
5) is a free/ad-supported Android app meant to help students improve incrementally every day, in the form of one new daily vocabulary word to master.
6) is also geared towards incremental improvement. "In just 60 seconds a day, these questions will boost your knowledge and understanding of the skills required to ace the SAT exam." It includes over 5,000 SAT vocabulary words and over 150 SAT math problems, as well as sentence completion questions and more.
7) Allen Resources has also developed a number of SAT and ACT apps for Android. These "TestBank" apps are specific to ACT/SAT subject areas. Many are in the $9-$10 range, making them among the most expensive SAT/ACT test prep apps. These apps claim special features, like "favorites" and "most missed" options plus performance statistics and built-in test-taking tips.
Many thanks to Larry Sullivan of the appolicious advisor, for inspiration for this post.
Featured image courtesy of Patrick Hoesly.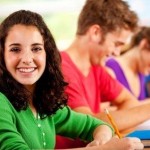 Our free 20-page ebook is a step-by-step guide on how to select the right test for your student. Learn everything you need to know about using the PLAN and PSAT to improve student scores, how to leverage learning analytics to select one test over the other, and other tips on how to take the guesswork out of selecting the ACT vs the SAT.