The ACT standardized test for high school achievement and college admission is growing in popularity. About 47% or 1.57 million high school students took the ACT in 2010. According to a new report from the ACT that is an increase of 30% from 2006.
The SAT is still the most common admissions exam. However, the ACT has nearly caught up in popularity. Most colleges accept either the SAT or ACT, and a growing number of colleges no longer requires either one. The SAT results are due out on September 13th.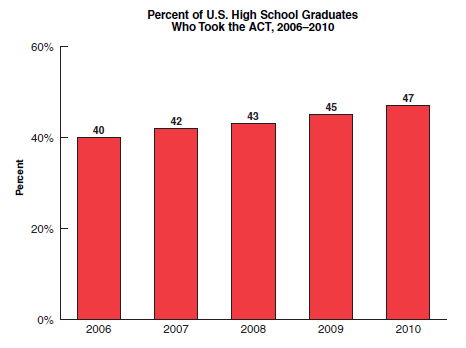 The ACT is growing as it is now a requirement for all high school seniors in more states. Colorado, Illinois, Kentucky, Michigan and Wyoming all require the ACT as part of their graduation requirements for high school students. Arkansas, Texas and Utah will soon make state-financed ACTs available to all districts as well.
Cynthia Schmeiser, president and chief operating officer of ACT's education division commented that the ACT test population, "now includes virtually all students in eight states, many of whom might not have considered taking a college and career readiness assessment years ago." At least 60% of all 2010 high school graduates in 25 states took the ACT and in another 10 states at least 80% of high school graduates took the ACT.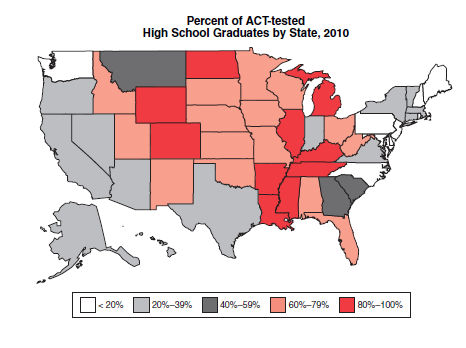 What are your students planning to take, the SAT or ACT?
Graph Source: 2010 ACT Condition of College and Career Readiness Report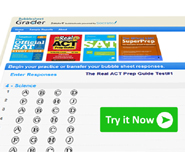 Free ACT and SAT Diagnostic Tests: Grade Your Yourself with Our New BubbleSheet Grader Tool
Automatically score and grade your paper-based ACT and SAT tests. Find out your scaled score and percentile score and generate helpful performance reports using Socrato's new BubbleSheet Grader tool.